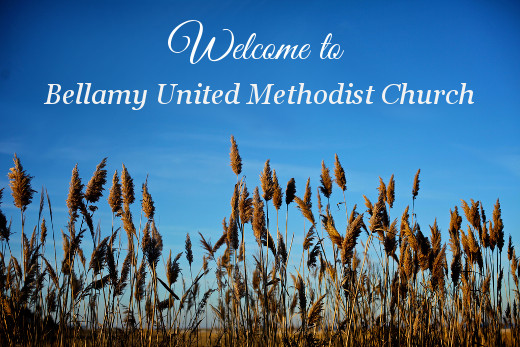 New To Bellamy?
We understand the many concerns that you may have about visiting a new church. To alleviate some of these concerns, below are some answers to a few questions you might have:
"What time are your services?"
Bellamy Church currently offers two services. The first service begins at 8:30 am and the second service begins at 10:30 am. These services are nearly identical, and you are more than welcome to attend either one. Our monthly Contemporary Service "The Well", is a  45 minute casual worship service held the second Tuesday of the month at 6:30 p.m.  Special services, as well as special speakers and music, are provided throughout the year, i.e. Easter, Thanksgiving, Christmas Eve, etc. 
"What should I wear?"
We want you to feel comfortable. After all, we are thrilled that you're joining us and want you to be more focused on the service than what you're wearing. In the summertime, it's not uncommon to see people wearing sandals, shorts, and short sleeve shirts. Others prefer to still put on their "Sunday best," and that's fine too! We welcome you no matter how you dress.
"Where should I park?"
The church driveway is one-way from Chestnut Fork Road, going in a clockwise direction. You may park in any available spot either behind the Church or in the parking spaces on either side of the Church. There are a few reserved parking for our staff behind the church building so we ask that you not park in those spots. Entrances to the building can be found on either side of the building.
"Where do my children go?"
Children are always welcome to participate in worship at Bellamy!!!  You will find a basket labelled "Children's Worship Materials," that includes crayons and books that kids can enjoy quietly.  Many children love to participate as the congregation recites the Lord's Prayer, or join in hymns.  Family worship introduces your child to a treasure that will last for eternity!
If your child is not ready to participate in the worship service, Bellamy offers Children's Church at the 10:00 am service in the Children's Wing.  Children sing, craft, play, and learn about the Bible-- all at their level!!
The Nursery is available for parents who would like to rock, play, or change a diaper during worship.
"What is our music like?"
Bellamy provides a rich medley of traditional hymns and contemporary worship and praise music. We are blessed to have an adult choir and a bell choir which provide performances throughout the year. Bellamy has also recently introduced a new contemporary praise band, 'In His Presence', which play during Sunday services and special services.
"Am I expected to put money in the offering?"
If you are visiting with us, we don't expect you to put money in the offering but you are more than welcome to if you desire.

If you consider Bellamy your church home, we'd love for you to prayerfully consider giving to further the ministry of Bellamy. You can give by check or cash during the service, or you can give online through the church website.
"I have hearing and/or visual problems. Is there any special assistance?"
Bellamy provides sound amplifying headphones and other devices to help the hearing impaired and those with other special needs. Please let us know when you arrive of any special needs so that we can try to accommodate those needs. 
"What opportunities are there for visitors to get involved with Bellamy?"
Bellamy provides a wealth of small and medium-sized group opportunities for guests and members alike throughout the week.  

A small sampling includes an activity group called Kid Praise,  the Bellamy Youth Group for middle school and high school youth, and the United Women of Faith groups, local outreach ministry, older adult group (Extra Years of Zest or X.Y.Z.), weekly Sunday morning Bible study and other groups and Bible studies.  

Come join us; you will be welcome in whatever program you decide to be involved in. Please check out our groups on our website for more information.