"Foundations"
July 21, 2021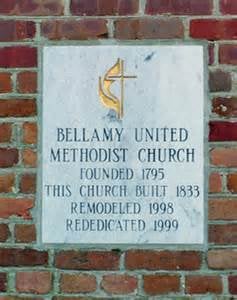 "Therefore, I urge you, brothers and sisters, in view of God's mercy, to offer your bodies as a living sacrifice, holy and pleasing to God—this is your true and proper worship. Do not conform to the pattern of this world, but be transformed by the renewing of your mind. Then you will be able to test and approve what God's will is—his good, pleasing and perfect will." Romans 12:1-2
This is obviously a picture from a special place for me. The front of the "Old Church" which was constructed from 1831-1833 using bricks made at Rev. Eastwood's farm. Over my years here I marveled at what must have taken place in and around this old church: weddings, baptisms, funerals, confirmations, pot lucks, and special prayer services for some challenge to the community or the nation. The old church was built to last. In my time the old church has hosted cub scouts, girl scouts, Sunday school, Bible studies, yoga, healing services, special worship services, funeral receptions, and even a wedding. Today the old church is home to the loaves and britches ministry. This past week forty families received help and hope.

But it all starts with the foundations. I have seen pictures of the "Old Church" with its roof peeled back from a storm. It has survived countless weather tests, and tests of our nation, community, and even our denomination. I believe the "Old Church" stands because of the foundations of faithful people connected to Bellamy Church.

Today more than I have ever experienced, I feel our foundations are being tested. We are in a challenging season as a world, a nation, a commonwealth, a county, a church. There is a need to check our foundations and tend to them. But how? The Apostle Paul writes to the Roman Church to first remember that we are Christians, so do not bring the culture or politics or agendas into the discussion. That is stuff of the world. We are different. Instead let's remember as Christ served, let us also adopt a mindset of a servant. The next thing we do is allow ourselves to be transformed by the Word of God through our personal devotions each day, our daily prayers, our engaging in our faith in the culture but not of the culture, and by our community of faith through study and worship.

With a good foundation we can shine in a world dimmed by division and violence. We can serve and be a means of grace. It takes work though. We must from time to time look at our foundations. Are we focused on Christ and Christ alone? Are we speaking with God daily? Are we reaching out in concern and service in Christ's Holy name? Our world is shaky at best. As Christians now is the time to stand firm. We can do this by God's good grace.

PRAYER: Gracious God, our world seems unstable. The harder the culture tries to fix itself, the worse things seem to get. Help us today to tend to the good foundations you have set in our lives. Help us to be steady believers ready for your transformation daily. Thank You for hearing our prayer this day. In Christ's Holy Name. Amen.