"The Things We Carry"
June 16, 2021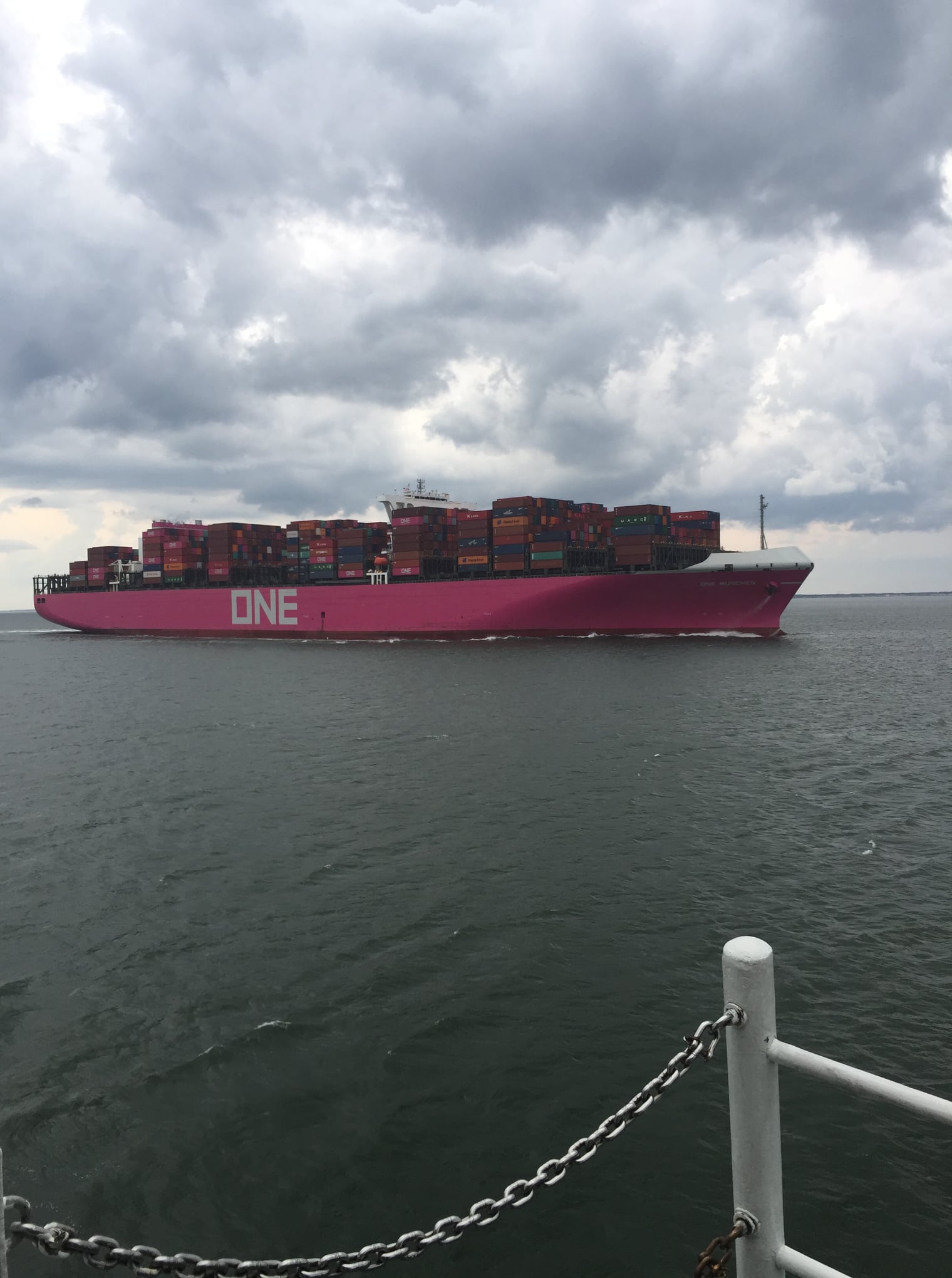 "Come to me, all you who are weary and burdened, and I will give you rest. Take my yoke upon you and learn from me, for I am gentle and humble in heart, and you will find rest for your souls."
Matthew 11:28-29
Last Wednesday I was at sea on a Coast Guard Cutter and could not provide a Mid Week Top Off. My apologies. This week I offer a snap shot from that three day trip. The photo was taken on Wednesday as we headed to our anchorage for the evening. Chased by a squall line, we were heading to Norfolk with this container ship on our heels. We moved into the Auxiliary Channel and they went by us, rather quickly. Which was impressive given their size and the containers on their deck. But if you look closely, you will notice that though the ship looks loaded, it actually has plenty of room for even more cargo.

These ships when fully loaded are huge, they carry a lot of cargo all over the world. It's what they were built for. As she sailed by us, I couldn't help but think about all of the stuff we carry. The concerns, worries, stress, guilt, shame, anger, and discouragement can pile up on our main deck and like a container ship we carry all of the cargo with us. Some of the cargo, we even refuse to let go of because it becomes familiar to us and we would even say is a part of our story. But… we were not built for that.

Jesus tells us in Matthew's Gospel that we need to lay down those burdens. We get weary when we haul our stuff throughout life. We yearn for rest, and Jesus gives us the answer, "Come to me." Come to my safe harbor and unload your cargo. Replace your heavy cargo with my light and joyful life. Jesus even promises us rest. And so, gentle reader, my prayer today is that if you are like me and feeling our decks are over loaded with cargo we need to unload, let's agree to take our burdens to the Lord and lay them down. Let's choose the rest, let's choose a life in Christ.

PRAYER: Gracious God, we are trying our best! And yet, sometimes our burdens weigh us down and we forget that there is a place to take the things that trouble us. Help us today to lay our burdens down, and choose the rest that can come only from Jesus! Amen.